Sinds 28/02/2022 is er na jarenlang gepalaver eindelijk een erkenningsbesluit gepubliceerd in het Belgische staatsblad ter oprichting van een fonds om consumenten te ondersteunen die te maken hebben met een lekkende stookolietank.
Sinds 1 april 2022 is PROMAZ actief. Dit is een vzw opgericht door sectororganisaties Informazout, Brafco en Energia.  Getroffen klanten

die te maken hebben met bodemverontreiniging door een lek in de stookolietank of leiding kunnen een aanvraag doen ter compensatie van bodemverontreiniging en saneringswerken.
Tot 28/02/2025 kunnen consumenten een aanvraag indienen via de website www.promaz.be, voor een lekkende stookolietank of leiding die gebruikt wordt of werd voor het verwarmen van een gebouw in België.  Dat gebouw mag zowel residentieel als niet residentieel zijn.  De aanvragen mogen zowel gebeuren voor bodemverontreiniging van stookolietank die in gebruik zijn, als voor verontreiniging van het verleden als voor stookolietanks die buiten gebruik zijn gesteld geweest.
De nodige bewijzen moeten worden bijgevoegd bij het dossier.
Het fonds werkt met een prioriteitsindex voor de terugbetaling en uitvoering van de werken.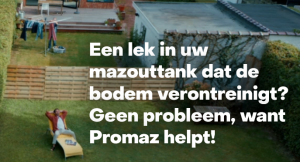 Hoeveel tussenkomst?
Dit zou gaan voor een maximum van €200 000 incl btw voor residentiele gebouw, en voor € 100 000 incl btw voor niet residentiële gebouwen.
Sommige kosten blijven wel voor rekening van de eigenaar.
Zie voor meer info op www. promaz.be of www.informazout.be
Bron: informazout , www.energiafed.be