Zowel in België als de rest van Europa staat de stookolie-sector onder druk in het licht van de klimaat doelstellingen. en zijn er tal van ontwikkelingen en testen gaande om groene brandstof te ontwikkelen. Er zijn enerzijds biobrandstoffen die gemaakt worden van biomassa en anderzijds de E-fuels, de synthetische brandstoffen.
Volgende BIOBRANDSTOFFEN zijn al ontwikkeld
Fatty-Acid Methyl Ester (FAME) of vetzuurmethylester kan je mengen met bestaande vloeibare fossiele brandstoffen, zoals stookolie.
Biomass to Liquid of Btl is een vloeibare en koolstofneutrale brandstof die wordt gemaakt van biomassa en afvalstoffen, zoals houtpulp, plantaardige olie of algen.
Hydrogenated vegetable oil of HVO ontstaat door plantaardige oliën en bakolie-afval te behandelen met waterstof.
E-FUELS zijn synthetische brandstoffen die worden gemaakt met behulp van zonne- en windenergie. Ze ontstaan door CO2 uit de lucht te halen en te combineren met waterstof. Uiteindelijk bekomt men zo een vloeibare brandstof die de geproduceerde koolstof hergebruikt om nieuwe brandstof te maken, vandaar ook dat dit als een CO2-neutrale brandstof wordt beschouwd.
Deze bovengenoemde CO²-neutrale brandstoffen kunnen aldus worden gebruik voor verwarmingstoepassingen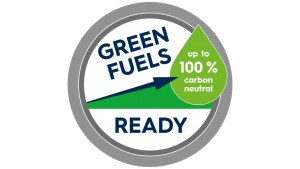 Om fabrikanten aan te moedigen om verder te investeren in deze technologieën  heeft de Duitse mazoutfederatie recentelijke een label gelanceerd "het green fuels ready" -label. Dit een label dat ketel fabrikanten kunnen hanteren als een ketel/wisselstuk/opslagtank voldoet aan de Duitse norm voor parafinnische brandstoffen, zoals HVO of FAME.
Het label geeft aan of verwarmingsketels, opslagtanks en componenten technisch compatibel zijn met deze nieuwe koolstofarme vloeibare brandstoffen.
Sommige ketelfabrikanten bieden zelf kits aan om bestaande verwarmingssystemen aan te passen voor het gebruik van koolstofarme vloeibare brandstoffen.
Aangezien de Duitse normen vaak de standaard zijn voor ketelfabrikanten, kan het label ook eenvoudig in andere landen gehanteerd worden.
Green fuels bieden heel wat voordelen: het is niet nodig om de hele installatie te vervangen, ze zijn makkelijk op te slaan, omschakelen kan in één enkele levering, en er bestaat al een distritubtienetwerk.
Het is tevens een sterk signaal naar de consument die hen geruststelt over de toekomst van hun verwarmingsinstallatie.
Bron: informazout , livios, futurefuels.blog