Het gebruik van een buffervat bij een warmtepomp biedt verschillende voordelen en is vaak aan te raden. Hier zijn enkele redenen waarom een buffervat wordt gebruikt in warmtepompsystemen:
Efficiënt gebruik van de warmtepomp: Een warmtepomp heeft een minimaal aantal cycli per uur nodig om efficiënt te kunnen werken. Het buffervat fungeert als een opslagmedium waarin warmte wordt opgeslagen en vervolgens geleidelijk aan het verwarmingssysteem wordt afgegeven. Dit minimaliseert het aantal cycli dat de warmtepomp moet doorlopen, waardoor de efficiëntie wordt verhoogd.
Overbruggen van piekbelasting: Een buffervat kan helpen bij het opvangen van piekbelastingen in de warmtevraag. Wanneer er bijvoorbeeld een grote vraag is naar warm water of verwarming, kan het buffervat extra warmte leveren om aan die vraag te voldoen. Dit voorkomt dat de warmtepomp voortdurend op volle capaciteit moet draaien, wat de efficiëntie en levensduur van de warmtepomp ten goede komt.
Verbeterde systeemstabiliteit: Door een buffervat te gebruiken, wordt het verwarmingssysteem minder gevoelig voor schommelingen in de warmtevraag. Het buffervat fungeert als een buffer, waardoor er een gelijkmatige warmteafgifte kan plaatsvinden, zelfs als de warmtepomp niet continu in bedrijf is. Dit zorgt voor een stabielere en comfortabelere werking van het systeem.
Integratie van verschillende warmtebronnen: Een buffervat kan ook worden gebruikt om warmte uit andere bronnen te integreren, zoals zonnecollectoren of een secundaire warmtebron. Dit biedt flexibiliteit en de mogelijkheid om meerdere duurzame energiebronnen te combineren om aan de warmtevraag te voldoen.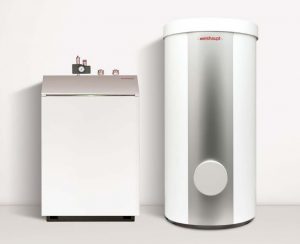 Het gebruik van een buffervat is niet in alle situaties vereist. Het hangt af van de specifieke behoeften en vereisten van het warmtepompsysteem. Bij het ontwerpen en dimensioneren van een warmtepompsysteem kunnen wij de de juiste aanbevelingen doen met betrekking tot het gebruik van een buffervat.
Afbeelding: weishaupt