Wij plaatsen tal van warmteafgifte-systeme. Gaande van radiatoren, convectoren, vloerverwarming, plafondverwarming en muurverwarming.
Vooral bij een geheelproject is het belangrijk om een correcte warmteverliesberekening te maken en afhankelijk van de gekozen warmte-opwekker en de warmteverliezen het gepaste warmte-afgiftesysteem aan te beiden.
Vloerverwarming
Afhankelijk van het budget van de klant , de vloeropbouw (dikte) en de keuze van bevloering wordt een nat of droog systeem voorgesteld.  Wij gebruiken steeds hoogwaardige gepatenteerde pe-xa buis.  Voor bevestiging van de buizen kiezen wij vaak voornamelijk voor het tackersysteem of draadmattensysteem.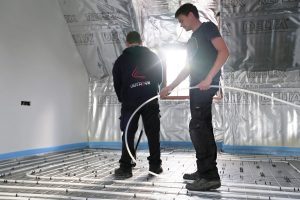 Naast vloerverwarming is het uiteraard ook mogelijk om leidingen op muren en of plafond te gaan bevestigen.
Radiator of Convector?
Het prijskaartje en de snelle en gelijkmatige opwarming is een belangrijke troef voor convectoren, maar radiatoren geven meer stralingswarmte af en dat wordt door de meeste klanten beschouwt als een meer aangename verwarming. Bij radiatoren stroomt warm water door buizen of platen die op hun beurt stralingswarmte afgeven, alsook in mindere mate convectiewarmte via luchtcirculatie.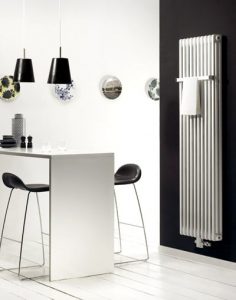 Convectoren geven meer convectiewarmte af, maar minder stalingswarmte. De waterinhoud, die in mindere mate aanwezig is, stroomt door een dun buisje dat omgeven is door een warmtewisselaar van lamellen. Convectoren zijn in het algemeen compacter en lichter en uiterst geschikte voor goed geïsoleerde ruimtes, maar ze veroorzaken wel meer stof dan radiatoren.
Voor standaard radiatoren en sierradiatoren werken wij voornamelijk met de merken Radson, Henrad en Vasco. Deze merken bieden niet enkel kwaliteit, maar hebben tevens een ruime keuze designs.
De laaste jaren zijn ook gietijzeren radiatoren weer in opmars, voor deze kiezen wij vaak voor het merk Remeha. De modulaire structuur van de elementen zorgt voor een uitstekende verspreiding van de warmte om ook zeer grote ruimten afdoende te verwarmen.
Voor de installatie van convectoren werken wij voornamelijk met het merk Jaga. Zij bieden energie-efficiente convectoren aan, met de optie om deze uit te rusten met een booster.